Our hero was the apple of his mother's eye, and with justification
As good looking as you have ever seen , and a wee angel ......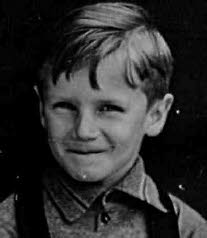 Born in Ballymena in 1943, he was reared in Magherafelt for the first 9 years of his life. He started school (the Parochial School attached to the Church of Ireland at the top of the Station Road) at the age of three - not that his mother wanted rid of him, but rather tat his older brother (David) could still be in the same classroom and help him to get used to the idea of being away from his 'mammy' (the classroom was divided only by a curtain for the first three classes). He quickly became teachers 'pet' and turned out to be a reasonably clever wee dick too.
In those days all of the children got a third of a pint of milk every morning, and this could be either hot or cold. Those wanting hot milk had it placed in front of a large open coal fire which was the only source of heating for the large schoolroom
He fell in love with Bess Avril, a new girl who lived in Castledawson when he was about 4 years old (maybe 5) but the relationship didn't blossom. His playmates were Moira and Ann McCormick on the Station Road, and later Chris and Michael Brennan, sons of the local surgeon at the Mid Ulster hospital. There was also Morris Asher (who has since passed away), the Gibsons, the Logues and the Doyles to name just a few in those early days.
In 1953 the family moved to Ballymena (Montague Avenue) and our hero soon formed a relationship with Hilary Cockett from across the street. They were inseparable in those early days. He had to fight William Ardis to establish his presence and after that it was cool to be part of his gang ...Alex Moore, Raymond Booth, Leonard Locke and Hilary were the mainstays. The Edmondsons, McBrides, Moores, and others come to mind also. It was a happy upbringing amongst good friends
He started school in Ballymena at Harryville School (Willie Moore and Jock Edmondson were his teachers, with Googlet Leetch the Principal). He was slapped and caned frequently, even though he was a wee angel. Totally unfair, but he survived. He sat for the eleven-plus exam when he was 9 years old (remember he started school at 3) but was failed because of his age. He had to spend a further year with Jock Edmondson and got a few more leg slappings. When he was 10 he passed the eleven-plus and graduated to Ballymena Academy, and because he was a wee clever dick he got put into 'A' classes along with all the brain boxes. He got quite a few hammerings at the Academy from Willie Mol (the Principal) and Harry Neil (the Latin teacher). He passed the Junior Certificate examination when he was 14 but failed his Senior at 16. As he couldn't wait to escape, he refused to re sit the examination and left. He couldn't get a job, so his father got him into an office in Belfast as a message boy in 1959.
It was about this time that he bought himself his first guitar from Joseph Kavanagh 'I Buy Anything' in Smithfield in Belfast for about thirty bob. As he was only earning 3 quid a week that was some expense. He taught himself to play 'Hang down your head Tom Dooley and started to learn chords from Bert Weedon's book 'Play in a Day' He loved it. There were a few guys playing guitars in Harryville Orange Hall and he used to call in to listen to them. At that time the Shadows were the big thing, and these guys were set up like that .. Lead and rhythm guitar, bass, and drums. It was fab. He was hooked on music, and when Melvin McCready and the rhythm player (can't remember his name) decided to leave he and Tommy Lament were enlisted. Mind you, he couldn't even play one tune the whole way through at that time. But his big brother was courting Margaret Close, and Margaret's brother Dick was the bass guitarist and 'leader' of the group, who were known as the Cossacks.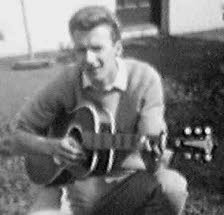 Their first actual 'performance' was in the T A Centre in Ballymena, where they played with an accordian player who carried them through the dance. Anyways ... more about that side of his life in the Cossacks Showband pages.
His dancing began every Saturday night at the Old People's Club in the Demesne (the 'Hop') ... I remember he took Jimmy Houston's daughter there one night (Ann), and he had a few girls he would meet, but none of them serious contenders for his affections. His dancing progressed to the Town Hall on fridays and saturdays where Sammy Barr brought the top showbands every week. Sammy eventually built the Flamingo Ballroom in Ballymena as a purpose built dance hall and attracted all of the top bands at that time.
The boys in the band had girls in almost every town they played, and Billy was no exception. There were a couple of girls who were more special than the others, but eventually he met a young girl in Cookstown who stole his heart. Jeanette McLean had entered his life, and she was later (and not too much later) to become his wife in 1968, although our hero had left the Showband by that time, and joined with Tommy Lamont and Willis Aiken as the Thatchers, an Irish Folk group. That was to prove to be a very enjoyable period in his life
Before that, however,he got fed up working for £10 a week in Belfast and moved to another firm in Antrim. In 1966. That meant less commuting and a fifty per cent increase in wages. Coupled with the earnings from the band he was reasonably comfortable financially and that probably convinced him to get married. In 1970/71 he went back to school, and within 3 years he had new qualifications which set him up for later life. He got a partnership in the business, built a house and moved to Antrim in 1976. When his partner died in 1978 the business became his own and has remained so since then.
It was at his new home in Antrim that he became more interested in gardening, and his exploits can be followed in his book 'How I Built a Japanese Garden' and on line by following the Japanese Garden link
Our hero has also written a few songs and poems which can be sampled elsewhere on this web site ... A real wee clever dick .....